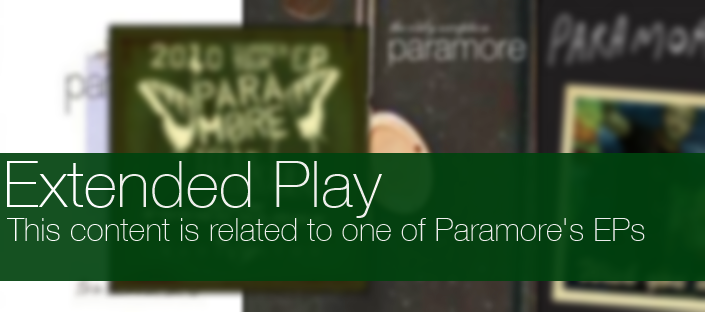 The 2010 Summer Tour EP is the second extended play by Paramore. This EP had included live songs from Paramore, New Found Glory, Tegan and Sara, and Kadawatha. This album was released during Paramore's 2010 Honda Civic Tour, a year after their album brand new eyes released.

Personnel
[
]
Trivia
[
]
The shortest song in the EP was Gonna Stay by Kadawatha, which was also the only song the band had included for the extended play.
This was the only EP to feature other band's songs in it.
New Found Glory and Kadawatha did not include any live versions of their songs.
The EP was categorized as alternative rock, emo, and pop punk.
The Only Exception EP had been released a few months after this EP.
Track List
[
]
| # | Title | Length |
| --- | --- | --- |
| 1. | "Ignorance - Live (Paramore)" | 3:49 |
| 2. | "My Heart - Live (Paramore)" | 6:08 |
| 3. | "Back in Your Head - Live (Tegan and Sara)" | 3:31 |
| 4. | "Sheets (Tegan and Sara)" | 3:18 |
| 5. | "I'm the Fool (New Found Glory)" | 3:38 |
| 6. | "Gonna Stay (Kadawatha)" | 3:15 |