Jurassic World: Dominion Dominates Fandom Wikis - The Loop
Play Sound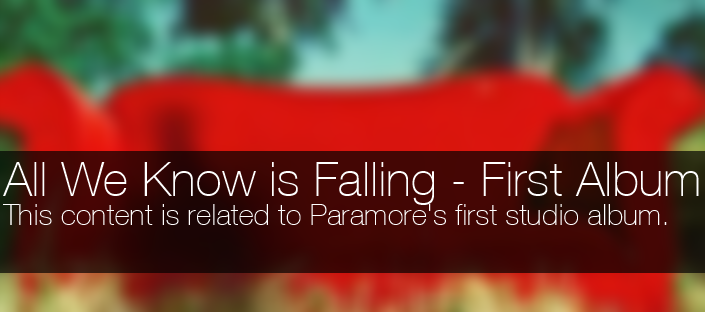 "All We Know" is the first track off of Paramore's first album All We Know is Falling as well as the third and final single from the album.
Background
[
]
The song's lyrics are based on both the departure of the band's bass player Jeremy Davis who later returned to the band, and the divorce of lead singer Hayley Williams's parents, as is most of the album.
The song title was used for the album title and is currently the only Paramore song to be named the same as the album it was on.
Very few reviews exist for "All We Know" but the Digital Spy website gave it a rather positive review by stating: "The song slides from hard-rocking, crashing guitars and emotive, angry vocals to a much softer sound to start off the last third of the song, and Williams' vocals really do stand out on 'All We Know', her voice almost trilling as she hits the high notes and yelping out that "it takes some time to let you go" before Paramore take us to a much gentler interlude, swiftly followed by a return to this group's fast-paced sound." The final rating for the single was 3 out of 5 stars.
Music Video
[
]
A live video is available, filmed at one of the band's concerts. The video is a clip show of Paramore performing on their own, at a concert and of various images of them running around town and backstage at their concert. It is a similar music video to the U.K. released single "Hallelujah" from their second album Riot!.
Audio
[
]
Lyrics
[
]
We tried so hard to understand, but we can't
We held the world out in our hands and you ran away
It takes some time to let you go and it shows

'Cause all we know is falling, it falls
Remember how 'cause I know
That we won't forget at all

Now we can follow you back home but we won't
Is this what you had waited for? Just to be alone?
It takes some time to let you go and it shows

'Cause all we know is falling, it falls
Remember how 'cause I know
That we won't forget at all

You never, you never said
This wasn't what you wanted
Was it, was it?

This isn't what you wanted
This isn't what you wanted

'Cause all we know is falling, it falls
Remember how 'cause I know
That we won't forget at all
Personnel
[
]
Paramore
Additional Musicians
Streaming
[
]