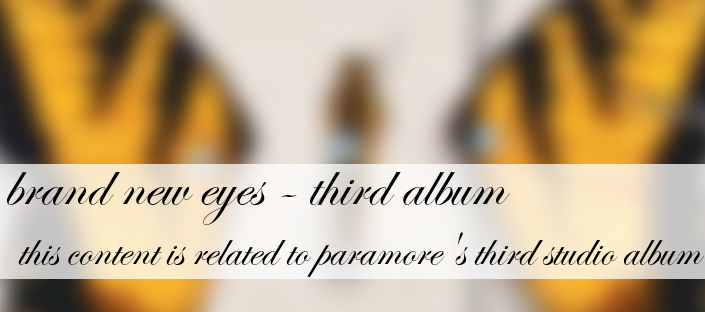 Brand New Eyes (styled as brand new eyes) is Paramore's third studio album, that was released on September 29, 2009.
Background
Edit
After non-stop touring for the prior album, Riot!, the band had stated that they were facing "internal issues" in early 2008. While writing new material, lead singer Hayley Williams struggled in believing that the expectations for the new album were going to be met as well as being concerned about the lyrics. "I was like, 'This isn't a feel-good song, because I'm writing about something I'm going through right now, and it's still painful,'" she continued. "And I confused that with actually not liking the songs, when actually I was prouder of them than I've ever been before. They're heavier emotions for me... I'm still going through some of this stuff, and these songs are really healing to me." By showing the lyrics she had created, it had helped the band to talk more freely with each other and to resolve the issues they had been struggling with.
The band had intended to record the album in their hometown of Franklin, Tennessee, they ended up recording in Calabasas, California with producer Rob Cavallo; he also produced the song Decode by Paramore for the film Twilight. The name "brand new eyes" was used for the album as it represented the overcoming of their issues and how they saw each of the other band members.
The first single off the album was Ignorance, written by Hayley Williams, and Josh Farro . The video for the song is more abstract then the rest of the Paramore music videos. This is followed by Brick by Boring Brick. It featured the one of the two video in which Paramore has no performance shots, (the other one is Now ) just acting. The third single off of brand new eyes is The Only Exception. It is a ballad, and the video was released on February 17, on Paramore.net. It released as a single on April 10, 2010. The fourth single is Careful. It released as a single June 12, 2010. The video is a collection of live videos, of concerts and the band fooling about. The fifth and final single off the album was Playing God, which was a sequel to Ignorance. It had featured Hayley's home, where she had tied up the rest of the band and kept it a secret from the rest of the world. The music video was released on November 16, 2010 and was the last to include both Josh and Zac Farro.
Singles' Cover Art
Edit
Track Listing
Edit
All tracks are written by Williams and Josh Farro, except where noted.
Williams explained the lack of capital letters in the title name, referring to her dislike of capitalizing in general.
| | Paramore |
| --- | --- |
| Label | Fueled By Ramen |
| Albums | All We Know is Falling, Riot!, brand new eyes, Paramore, After Laughter |
| Live Albums | Live in the UK 2008, The Final Riot! |
| Other Albums | The B Sides |
| Singles | |
| Other Charted Songs & Singles | In the Mourning, Renegade, Grow Up, Anklebiters, Hate to See Your Heart Break, Forgiveness, 26, Pool |
| Other Songs (Song List) | Other Songs |
| Extended Plays | The Summer Tic EP, 2010 Summer Tour EP, The Only Exception EP, The Holiday Sessions |
| Boxsets | Singles Club EP |
| Related Pages | Teenagers, Airplanes, Stay the Night |