Jurassic World: Dominion Dominates Fandom Wikis - The Loop
Play Sound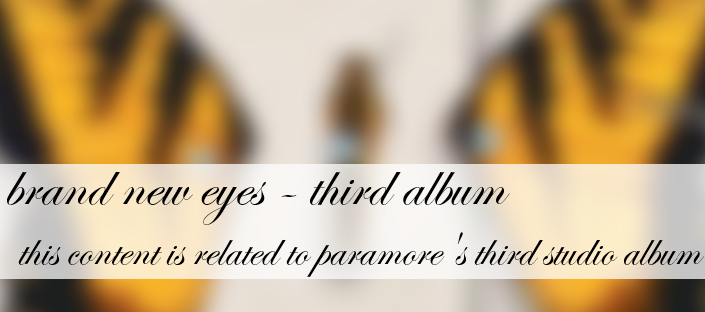 Brand New Eyes (styled as brand new eyes) is the third studio album by Paramore's, released on September 29, 2009.
Background
[
]
After non-stop touring for the prior album, Riot!, the band had stated that they were facing "internal issues" in early 2008. While writing new material, lead singer Hayley Williams struggled in believing that the expectations for the new album were going to be met as well as being concerned about the lyrics.
"I was like, 'This isn't a feel-good song, because I'm writing about something I'm going through right now, and it's still painful,'" she continued. "And I confused that with actually not liking the songs, when actually I was prouder of them than I've ever been before. They're heavier emotions for me... I'm still going through some of this stuff, and these songs are really healing to me."
By showing the lyrics she had created, it had helped the band to talk more freely with each other and to resolve the issues they had been struggling with.

The band had intended to record the album in their hometown of Franklin, Tennessee, they ended up recording in Calabasas, California with producer Rob Cavallo; he also produced the song Decode by Paramore for the film Twilight. The name "brand new eyes" was used for the album as it represented the overcoming of their issues and how they saw each of the other band members.
Track Listing
[
]
All tracks are written by Williams and Josh Farro, except where noted.
International Release
| # | Title | Length |
| --- | --- | --- |
| 12. | "Decode" (Williams, Farro, York) | 4:22 |
Deluxe Edition
7digital US Deluxe Edition
iTunes Deluxe Edition
Personnel
[
]
Paramore
Additional Musicians
Jaime Muhoberac – Keyboards, organ
Production
Rob Cavallo – Producer
Doug McKean – Engineer, mixing on "Misguided Ghosts"
Dan Chase, Lars Fox – Pro Tools engineers
Chris Lord-Alge – Mixing
Keith Armstrong, Nik Karpen – Assisted mixing
Brad Townsend – Additional engineering
Nate Warshowsky – Drum tech
Riley Emminger – Guitar tech
Cheryl Jenets – Production manager
Jaime Neely – Production assistant
Ted Jensen – Mastering
Management
Mark Mercado & Dave Steunebrink – Management
Jason Chidress – Business Management for Curo Financial Management
Danny Hayes – Legal for Davis Shapiro Lewit & Hayes, LLP
Ken Fermaglich & David Galea – Booking Agents for The Agency Group
Steve Robertson – A&R
Anne DeClemente – A&R Administration
Katie Robinson – Marketing Director
Artwork
Kistie Borgmann & Sarah Deane – Art Coordinators
Ryan Russell & Paramore – Art Direction & Design
Ryan Russell – Photography
Brian Ranney – Packing Production
Releases
[
]
Singles
[
]
The first single off the album was Ignorance, written by Hayley Williams, and Josh Farro. The video for the song is more abstract than the rest of the Paramore music videos. This is followed by Brick by Boring Brick. It featured one of the videos in which Paramore has no performance shots, (the others are Now, Ain't It Fun, Still Into You and Fake Happy) just acting. The third single off of brand new eyes is The Only Exception. It is a ballad, and the video was released on February 17, on Paramore.net. It released as a single on April 10, 2010. The fourth single is Careful. It released as a single June 12, 2010. The video is a collection of live videos, of concerts and the band fooling about. The fifth and final single off the album was Playing God, which was a sequel to Ignorance. It had featured Hayley's home, where she had tied up the rest of the band and kept it a secret from the rest of the world. The music video was released on November 16, 2010, and was the last to include both Josh and Zac Farro.
Singles' Cover Art
[
]
Making of Documentary
[
]
A 30 minute long documentary of the making of the album "Brand New Eyes" was released with the deluxe version of the album which also included the album on CD with the acoustic versions of 'Where The Lines Overlap' and 'Ignorance', a 40-page hardcover journal written by Hayley Williams, an exclusive poster that comes with only the box set, a booklet with the lyrics from all the songs from "Brand New Eyes", a color vinyl 7" single with the acoustic versions of 'Ignorance' and 'Where The Lines Overlap', one picture of each band member, and a certificate of authenticity.
Critical Reception
[
]
Brand New Eyes has been received favorable by critics and especially fans whom many claim it to be the best Paramore album.
| Source | Rating |
| --- | --- |
| AnyDecentMusic? | 6.8/10 |
| Metacritic | 73/100 |
| AllMusic | 3.5/5 |
| Alternate Press | 4.5/5 |
| Big Cheese | 5/5 |
| Drowned in Sound | 8/10 |
| Kerrang! | 4/5 |
| Melodic | 4/5 |
| NME | 7/10 |
| Rock Sound | 9/10 |
| Rolling Stone | 3/5 |
| Spin | 4/5 |
Certifications
[
]
| Region | Certification |
| --- | --- |
| United States | Platinum |
| United Kingdom | Platinum |
| Ireland | Platinum |
| Canada | Platinum |
| Australia | Platinum |
| New Zealand | Gold |
| Brazil | Gold |
| Argentina | Gold |
Release History
[
]
Region
Date
Label
Format
Australia

Ireland

Germany

Belgium

Austria

September 25, 2009
Fueled By Ramen
Compact Disc, digital download
United Kingdom
September 28, 2009
Fueled By Ramen
Compact Disc, digital download
United States
September 29, 2009
Fueled By Ramen
Compact Disc, digital download, LP
Bahrain
September 29, 2009
Fueled By Ramen
Compact Disc, digital download
Japan
October 1, 2009
Fueled By Ramen
Enhanced CD
Trivia
[
]
Williams explained the lack of capital letters in the title name, referring to her dislike of capitalizing in general.
This was the last Paramore album with Josh Farro.
Streaming
[
]