Jurassic World: Dominion Dominates Fandom Wikis - The Loop
Play Sound
"Fake Happy" is a song by Paramore. It was released on August 29, 2017, through Fueled by Ramen as the third single off their fifth studio album After Laughter (2017).
Background
[
]
Discussing the inspiration behind the song, Williams stated: "Well, I mean, the title is pretty self-explanatory. I think there's a lot of time we go out or we do things and we don't feel the way that we project, you know, that we wanna look like we feel..." In a Beats 1 interview with Zane Lowe, Williams also said regarding the song: "I hate phoniness. It's not fun to be around, it's not fun to do yourself. But then there are these moments in your life where you're professional and you have to have grace with yourself, you have to have grace with other people and work hard, but it's that self-preservation thing."
Music video
[
]
The music video for "Fake Happy" was released on November 17, 2017. It was directed by the band's drummer Zac Farro,, and features Hayley Williams in a sequined bodysuit strolling through New York City, full of crowds with animated upside-down smiley faces pasted on their faces.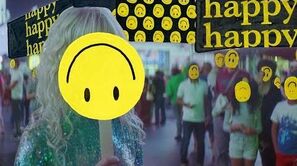 Lyrics
[
]
I love making you believe
What you get is what you see
But I'm so fake happy
I feel so fake happy
And I bet everybody here
Is just as insincere
We're all so fake happy
And I know fake happy
I been doing a good job of makin' 'em think
I'm quite alright
But I hope I don't blink
You see its easy when I'm stomping on a beat
But no one sees me when I crawl back underneath
If I smile with my teeth
Bet you believe me
If I smile with my teeth
I think I believe me
Oh please don't ask me how I've been
Don't make me play pretend
Oh no, oh what's the use?
Oh please, I bet everybody here is fake happy too
And if I go out tonight, dress up my fears
You think I'll look alright with these mascara tears?
See I'm gonna draw my lipstick wider than my mouth
And if the lights are low they'll never see me frown
If I smile with my teeth
Bet you believe me
If I smile with my teeth
I think I believe me
Oh please don't ask me how I've been
Don't make me play pretend
Oh no, oh oh what's the use?
Oh please, I bet everybody here is fake happy too
I know I said that I was doing good and that I'm happy now
Oh oh
I should've known that when things are going good
That's when I get knocked down
Oh please, just don't ask me how I've been
Don't make me play pretend
Oh no, oh no
Oh what's the use?
Oh please, I bet everybody here is fake happy too
Oh please, I bet everybody here is fake happy too