Jurassic World: Dominion Dominates Fandom Wikis - The Loop
Play Sound
"Fast In My Car" is the first track off of Paramore's fourth studio album "Paramore"
Background
[
]
The song "Fast In My Car" is about the strong bond the three members of Paramore felt for each other and how they are leaving drama behind them.
"I feel like the lyrics in that song tell you everything you need to know about what happened before and where we've been. It's kind of like we're opening up the album saying, 'Hey, we've been gone for a while we know, me and my three friends here, we've been through a long fight but we're back and we feel victorious on the other side.' We kind of feel like we made it through the war, you know?" - Jeremy Davis
"That song in particular gives people a very clear picture of the rest of the album as far as lyrically and how the story goes. We're ready to leave the drama and the BS behind us. It's been a long ride to get to where we are now and we just want to enjoy it, and for people to enjoy it with us and to let go of the negatives that we had. It's a new time for the band, and we're ready for people to experience that. Fast in My Car" is actually more about people who can't let go of our past, and the people who can't see outside of the big, fat shadow of Paramore's soap opera. It's about just wanting to be left alone enough to grow and move forward and just enjoy where we are. We were living in LA when we made the record, and we were writing it out there too, and one night, I had, like, a Honda Hybrid car, and we pile into it, and there's only two seats, and so Taylor [York's] laid out in the back of it; we're all trying to fit into it to go get sushi. And it felt like one of those nights, back in 2004, when we're headed to our first shows, and we all just piled into a station wagon with all our stuff. It felt like that again, and it felt so good, so I wanted to write a song about us getting away together. Piling up in a car and getting gone." - Hayley Williams
Audio
[
]
There is no music video to this song, but there is an audio version available on YouTube, which was uploaded on April 16 along with many other audio songs. This is available for iTunes.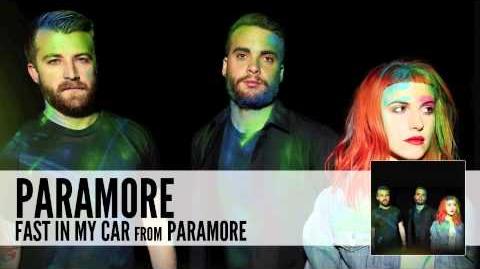 Lyrics
[
]
Been through the wringer a couple times
I came out callous and cruel
And my two friends know this very well
Because they went through it too

The three of us were initiates
We had to learn how to deal
And when we spotted a second chance
We had to learn how to steal

Hollowed out and filled up with hate
All we want is you to give us a break

We're driving fast in my car
We've got our riot gear on but we just want to have fun
No we're not looking for violence, no oh oh oh
Tonight we want to have fun

No one's the same as they used to be
Much as we try to pretend
No one's as innocent as could be
We all fall short, we all sin

But now we aren't looking backward
We won't try raising the dead
We only see what's in front of us
We only see straight ahead

Hollowed out and filled up with hate
All we want is you to give us a break

We're driving fast in my car
We've got our riot gear on but we just want to have fun
No we're not looking for violence, no oh oh oh
Tonight we want to have fun

Get in my car and we'll drive around
We'll make believe we are free
Already proved we can tough it out

And we get along so sweetly

We're driving fast in my car
We've got our riot gear on but we just want to have fun
No we're not looking for violence, no oh oh oh
Tonight we want to have fun

We're driving fast in my car
No we're not looking for violence, no oh oh oh
We're driving fast in my car
And we just want to have fun
Personnel
[
]
Paramore
Additional Musicians
Trivia
[
]
During a Q&A during Parahoy! Jeremy Davis stated that 'Fast In My Car' is his favorite Paramore song. "I just love the layers to it. It's fun to play live, I love listening to it, and I love the way it starts our album off."