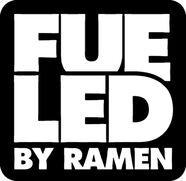 Fueled By Ramen is a record label from 1996, founded in Gainesville, Florida (now in New York) and an extension towards Warner Music Bros. This label is originally towards Atlantic Records. The two current owners of this record are John Janick and Vinnie Fiorello. The label consists of various genres from pop-rock to new wave.
Head of Warner Music Group, Lyor Cohen had already identified Fueled by Ramen as a label they should partner with and it was decided the rock label would make an ideal match for Paramore. According to Robertson, when the band were presented to Fueled by Ramen's CEO John Janick, "he got the vision of the band immediately." Janick went to a Taste of Chaos performance in Orlando, Florida to see the band perform live. In April 2005, after a smaller private performance at a warehouse, the band was signed to Atlantic Records and Fueled By Ramen.
Discluding Paramore, Fueled By Ramen is also the record label for:
Cobra Starship
Fun.
Ghost Town
Gym Class Heroes
Oh Honey
Panic! at the Disco
Travie McCoy
Twenty One Pilots
Vinyl Theatre
Young the Giant
The Academy Is...
Animal Chin
Ann Beretta
Cadillac Blindside
The Causey Way
Days Away
Discount
The Friday Night Boys
Frodus
The Hippos
The Impossibles
Kane Hodder
Kissing Chaos
Limp
Mid Carson July
October Fall
Pollen (band) | Pollen
Powerspace
A Rocket to the Moon
Roy
Slick Shoes
Slowreader
The Stereo
Swank
Teen Idols
Whippersnapper
The Æffect
Autopilot Off
Blueline Medic
Phantom Planet
Recover
The A.K.A.s
August Premier
The Cab
Cute Is What We Aim For
Fall Out Boy
Forgive Durden
Foundation
The Hush Sound
The Impossibles
Jersey
Jimmy Eat World
Less Than Jake
Lifetime
Rome
The Pietasters
This Providence
Punchline
Sublime With Rome
The Swellers
VersaEmerge
Yellowcard
Community content is available under
CC-BY-SA
unless otherwise noted.