Jurassic World: Dominion Dominates Fandom Wikis - The Loop
Play Sound
"Hard Times" is a song by Paramore from their fifth studio album, After Laughter. [1]
Released on April 19, 2017 through Fueled By Ramen, it's the lead single from the album and marks the first song released from a new studio album in over four years. [2]
It is the first new track released to include drums from formerly departed drummer Zac Farro [3] and to exclude departed bassist Jeremy Davis. [4]
The song was written by singer Hayley Williams and guitarist Taylor York and was recorded in Nashville's RCA Studio B. [5]
Composition
[
]
Lyrically, "Hard Times" is about going through rough stages in life, and being thought of as useless when trying to get new achievements [6] It's also mentioned that the song is about how it often feels futile to get up and try again. [7]
"
I couldn't imagine putting something on an album that says 'life's great, everything's cool, party with me.'
"

—Williams for New York Times
Magazine writer Will Richards of DIY claims that, "The track's first verse almost sounds like old, noodly Foals, but it's quickly swapped for a shamelessly '80s chorus, one that instantly sticks in your brain like bubblegum."
As for comparison to their old songs and tracks of other artists, Eddie Fu of Consequence of Sound said that, "The new song builds on the bouncy pop rock of their previous hit singles "Still Into You" and "Ain't It Fun" by further incorporating 1980s new wave — it's even drawn comparisons to the Talking Heads." [8]
The Guardian author Sam Wolfson chipped in to comparisons as well, saying, "In particular, first single Hard Times, with its Lionel Richie drums, heavily layered vocals and Daft Punk-style breakdown, you could easily imagine being their biggest hit to date." [9]
Other reviews from StereoGum and photographer Lindsey Byrnes all seem to agree that the song was a definite '80s throwback hit with great potential. [10]
"
This is a really big step for us as a band, and it's definitely a new sound. We're really proud of it. I feel like it really reflects exactly who we are right now in real time, and hopefully people will be into it.
"

—Williams for iHeartRadio [11]
Critique
[
]
The song mostly fell under positive reviews. Coscarelli of New York Times continued his article by writing, "[The song] remains the focus, and her nimble melodies and sneakily huge pop hooks are as crisp and magnetic as ever, unbeholden to genre walls."
Spin Magazine writer Jordan Sargent praised the song, saying, "[Hard Times is an interesting experiment, even if you don't care for Paramore's music." [12] Going on, Sargent claims, "This shouldn't feel as rebellious, or even as exciting, as it does, but such is the state of popular music."
Spotify editors whom took over Billboard for a music article had praised Paramore for creating a poppy and fun song. "With the infectious quality of "Hard Times" inspiring a jump-on-the-bed and use a hairbrush as a microphone type of vibe, Paramore's new chapter is a testament to what can happen not only when you weather the storm, but when you let yourself dance in the rain as well." [13]
Albeit a small amount, negatives were also presented. Joseph R. Atilano of The Inquirer mentioned that the song's length was too short, and that Williams' vocals could have been louder pre-chorus. [14]
A week after it had been uploaded on YouTube, the ratio of dislikes to likes was the highest it has ever been for a Paramore song, although the likes are still much greater than the dislikes. [15]
Music Video
[
]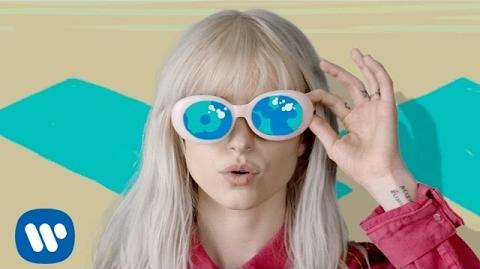 Premiere Date: April 19, 2017
Director(s): Andrew Joffe
Stylist(s): Brian O'Connor, Pheonix Johnson
Photographer(s):
Matt Joffe
The music video was released via Fueled By Ramen's youtube channel on April 19, 2017. The video was directed in March by Andrew Joffe over a period of two days at Optimist Studios. [16]
In an interview with Billboard, Joffe said, "In the opening shot I just wanted to figure out a way to bring the audience into this dream world and use a lot of the visuals to represent different elements of Hayley's psyche in the song." Billboard added that, "the clip makes use of the kind of hand-drawn rotoscoping animation effects made famous in "Take on Me," and deploys a color palette straight out of Weird Science and Square Pegs."
As for outsider perceptions, Lars Gotrich of NPR claimed that the video was based off, "...early MTV-style effects, loud pastels and a performance space seemingly constructed out of an old Nickelodeon set."
Audio
[
]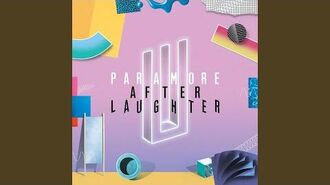 Photography
[
]
For the entire week after the video was uploaded, the band released pictures from the set of the music video. The images below were taken by either Matt Joffe or Lindsey Byrnes.
Lyrics
[
]
All that I want
Is to wake up fine
Tell me that I'm alright
That I Ain't gonna die
All that I want
Is a hole in the ground
You can tell me when it's alright
For me to come out
 
HARD TIMES
Gonna make you wonder why you even try
HARD TIMES
Gonna take you down and laugh when you cry
THESE LIVES
And I still don't know how I even survive
HARD TIMES
HARD TIMES
and i gotta get to rock bottom
 
Walking around
With my little raincloud
Hanging over my head
And it ain't coming down
Where do I go?
Gimme some sort of sign
Hit me with lightning!
Maybe I'll come alive
 
Tell my friends I'm coming down
We'll kick it when I hit the ground
Charts
[
]
Weekly
[
]
| Chart (2017) | Peak |
| --- | --- |
| Australia (ARIA) | 61 |
| Finland Download (Suomen virallinen latauslista) | 2 |
| Ireland (IRMA) | 54 |
| New Zealand Heatseekers (RMNZ) | 54 |
| Scotland (Official Charts Company) | 14 |
| UK Singles (Official Charts Company) | 34 |
| US Hot Rock Songs (Billboard) | 10 |
| US Rock Airplay (Billboard) | 33 |
Release
[
]
| Country | Date | Format | Label |
| --- | --- | --- | --- |
| Worldwide | April 19, 2017 | Digital Download | Fueled By Ramen |
| United States of America | April 25, 2017 | Contemporary Hit Radio | Atlantic • RRP |
Trivia
[
]
This song was featured in the film "Happy Death Day 2U"
References
[
]