Jurassic World: Dominion Dominates Fandom Wikis - The Loop
Play Sound

"I Caught Myself" is a song written by Hayley Williams, Josh Farro, and performed by Paramore. This song is part of a rare album entitled 'The B-Sides', which includes many unreleased songs and demos/covers of other Paramore songs. The song was also released on the Twilight Soundtrack as it was a song included in the Twilight movie, along with Decode.
Background
[
]
The song "I Caught Myself" is about not being able to decide between moving forward or going backward.
"well.. we had written it before i'd actually read the books.
i wrote the lyrics on the RIOT! tour in 07 (that's how old it is!) when i was going through some crap with a boy. figures, doesn't it?
i thought it was cool that someone found a line in New Moon that said "I Caught Myself"… pretty crazy."
- Hayley Williams
Audio
[
]
This song was put on the official Twilight Soundtrack, and was released in iTunes.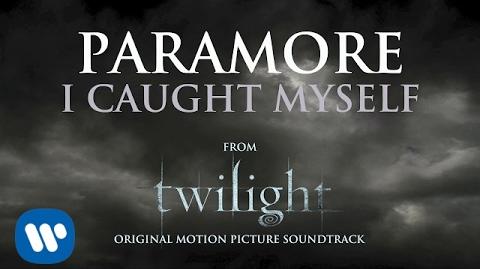 Lyrics
[
]
Down to you
You're pushing and pulling me down to you
But I don't know what I
Now when I caught myself
I had to stop myself
From saying something
That I should've never thought
Now when I caught myself
I had to stop myself
From saying something
That I should've never thought of you of you

You're pushing and pulling me down to you
But I don't know what I want
No, I don't know what I want

You got it you got it
Some kind of magic
Hypnotic hypnotic
You're leaving me breathless
I hate this I hate this
You're not the one I believe in
With God as my witness

Now when I caught myself
I had to stop myself
From saying something
That I should've never thought
Now when I caught myself
I had to stop myself
From saying something
That I should've never thought of you of you

You're pushing and pulling me down to you
But I don't know what I want
No, I don't know what I want

Don't know what I want
But I know it's not you
Keep pushing and pulling me down
When I know in my heart it's not you

Now when I caught myself
I had to stop myself
I'm saying something
That I should've never thought
Now when I caught myself
I had to stop myself
I'm saying something
That I should've never thought of you

I knew, I know in my heart it's not you
I knew, but now I know what I want, I want, I want
Oh no, I've should have never thought
Streaming
[
]

The B-Sides
Paramore Chronology