Jurassic World: Dominion Dominates Fandom Wikis - The Loop
Play Sound
Justin Daniel York is a singer and guitarist who is the elder brother of Taylor York. He was born at Grantsburg, Wisconsin, on November 26, 1982 (age 38). He is currently a touring member of Paramore.
Early Years
[
]
Justin York was born in Wisconsin and moved to Nashville, Tennessee at the age of five. His entire family is Christian and is musically talented. He followed in becoming a strong Christian and powerful musician. He learned how to play the guitar with the help of his father who was already an expert guitarist (his name was Peter York). Justin later followed in his father's footsteps and became a skilled guitarist. When he was a teenager, Justin had his first chance to use his guitar skills to help make an album. He accepted the request of Phil Joel, and played the guitar for his solo album. After that, Justin played guitar for others - such as Steven Chapman, Joy Williams, Paul Alan, Rebecca James, & Sammy Ward. Justin joined the band Tait when he was merely 19 years old, and worked with them for many years.
Productions and Joining Paramore
[
]
Justin left Tait in 2006 after five years of playing guitar with them for albums 'Empty' and 'Lose This Life'. About a year later, he helped the band Over Ashes by co-producing their album. From 2006 to 2007, Justin worked with Ryan Clark and Van Beasly on a side project that was named 'Cecil Adora'. The three announced that they were going on a hiatus in June 2008. The project was never touched after the hiatus was announced, as Ryan Clark joined Novel American a few years later.
Justin later filled in for Paramore taking Josh Farro's role on lead guitar. First, during Paramore's Oceanic Tour in February 2010. In the same year, he helped the band 'Relient K' when the band was supporting Paramore on their Australian Tour in September. On December 30 (of 2010) during Paramore: The Last Word, it was revealed that he was again to replace Josh Farro on the South American Tour in 2011 after the departure of the Farro brothers (Josh and Zac). He became an official touring member after this.
Justin currently helps Paramore with live performances such as the backing vocals for the songs. He currently is not apart of any projects rather than performing with Paramore on his guitar.
Justin operates York Audio Lab, which produces guitar tone software packs.
Trivia
[
]
Justin has a Twitter account (@jyplaysguitar).
Justin has an Instagram account (@jyplaysguitar ).
Justin is married and has two children.
Justin was Katy Perry's first boyfriend (they dated when Katy was 17).
He replaced Josh Farro as the unofficial lead guitarist of Paramore, it's unknown if he'll ever join as a full-time member.
Justin is the longest-running touring member.
Images
[
]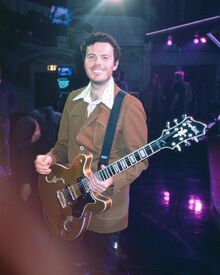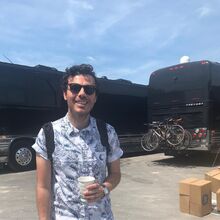 Current Members
Former Members
Touring Members
Former Touring Members