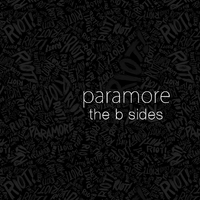 "
Sunday Bloody Sunday
" is a song written by Adam Clayton, Larry Mullen, Dave Evans, Paul David Hewson, and has been covered by
Paramore
. This cover is apart of a rare album entitled '
The B Sides
', which includes many unreleased songs and demos/covers of other Paramore songs. This cover does not have an official audio track, or music video to it. 
As mentioned, this cover currently does not have a music video or audio track to it, as the video below is an unofficial audio track of the song. The original song is currently on iTunes but was never charted. The cover was never charted or was put on Paramore's main albums.
All credit goes towards A-Z Lyrics for the lyrics mentioned below (http://www.azlyrics.com/lyrics/paramore/sundaybloodysunday.html)
I can't believe the news today
Oh, I can't close my eyes and make it go away
How long, how long must we sing this song?
How long, how long?
Tonight, we can be as one tonight

Broken bottles under children's feet
And bodies strewn across the dead end street
But I won't heed the battle call
It puts my back up
Puts my back up against the wall

Sunday, bloody Sunday
Sunday, bloody Sunday
Sunday, bloody Sunday
Sunday, bloody Sunday

And the battle's just begun
There's many lost, but tell me who has won
The trench is dug within our hearts
And mothers, children, brothers, sisters torn apart

Sunday, bloody Sunday
Sunday, bloody Sunday

How long, how long must we sing this song?
How long, how long?

And it's true we are immune
When fact is fiction and TV reality
And today the millions cry
We eat and drink while tomorrow they die, yeah

I wipe the tears from your eyes
I wipe your tears away
(Tonight, tonight)
I wipe your tears away
(Tonight, tonight)
I wipe your tears away
(Tonight, tonight)
I wipe your bloodshot eyes
(Tonight, tonight)

Sunday, bloody Sunday
Sunday, bloody Sunday
Sunday, bloody Sunday
(The real battle just begun)
Sunday, bloody Sunday
(To claim the victory Jesus won on...)

Sunday, bloody Sunday
Sunday, bloody Sunday
| | Paramore |
| --- | --- |
| Label | Fueled By Ramen |
| Albums | All We Know is Falling, Riot!, brand new eyes, Paramore, After Laughter |
| Live Albums | Live in the UK 2008, The Final Riot! |
| Other Albums | The B Sides |
| Singles | |
| Other Charted Songs & Singles | In the Mourning, Renegade, Grow Up, Anklebiters, Hate to See Your Heart Break, Forgiveness, 26, Pool |
| Other Songs (Song List) | Other Songs |
| Extended Plays | The Summer Tic EP, 2010 Summer Tour EP, The Only Exception EP, The Holiday Sessions |
| Boxsets | Singles Club EP |
| Related Pages | Teenagers, Airplanes, Stay the Night |