Jurassic World: Dominion Dominates Fandom Wikis - The Loop
Play Sound

"Why We Ever" is the tenth track off of Hayley Williams' first solo album "Petals for Armor" and the fifth track off the "Petals for Armor II" Extended Play.
Background
[
]
"ok. another song from Petals For Armor ll drops tomorrow. 🌺
long caption alert (🙄 surprise). in Dec 2018, i bought protools, an interface, and some speakers and decided to learn something new. these moments are from my first go at it (we're talking out of time/phase/tune… etc!)…


i was at the lowest point i'd been in some time. my sadness shows. now i look back and credit this night as being the beginning of a new season of my life, where i hold myself accountable for learning to love better. i've let myself down a lot in love. this was the start of recognizing my bad patterns and acknowledging that i'm ready to grow out of them. thank you @micahtawlks for helping finish and reimagine this one for the album.


the new song, "Why We Ever" is out tomorrow." - Hayley Williams (via Instagram)
Music Video
[
]
A Lyric video and Sunday Session has been uploaded of "Why We Ever"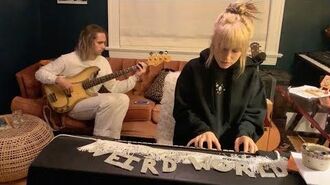 Lyrics
[
]
Open your mouth
Say something warm
I've spent a while
On the stranger's side of your door
How do you sound?
What do you look like now?
I try to replicate our movements in my mind

And now I
Can't seem to remember why
We ever
Felt we had to say goodbye
I can't seem to remember why
Can't seem to remember why

Tin-can telephone
From your home to my home
I can't feel your energy no more
No more, no more (No more, no more, no more)
No more, no more (No more, no more, no more)
No more, no more

And now I
Can't seem to remember why
We ever
Felt we had to say goodbye
Can't seem to remember why
And, darling, we ever
Can't seem to remember why

I spent the weekend at home again
Drawing circles on the floor
Tried to keep myself from hurting
I don't know why anymore

I just wanna talk about it
I know I freaked you out
I just wanna talk about it
Sorry for freakin' out

I just wanna talk about it
I know I freaked you out
I just wanna talk about it
Sorry for freakin' out
Sorry for freakin' out

I just wanna talk about it
Sorry for freakin' out
I just wanna talk about it
Sorry for freakin' out
Personnel
[
]
Hayley Williams - Lead Vocals, Keyboards
Aaron Steele - Drums
Joey Howard - Bass Guitar
Taylor York - Additional Instruments